4 Reasons to Invest in Custom Designs for Kids
April 24, 2013 | News, Newsletter Features
If you have the opportunity to customize a child's bedroom or bathroom, it might be one of the greatest investments you can make as a parent. Think about it… built-in organization to make your life easier and teach them responsibility, a fun atmosphere they can feel creative in, and giving them a sense of belonging can all come out of custom designs. Here are 4 reasons to put a little more thought into a kid-friendly and kid-inspired home.
1. Create Opportunities to Stay Organized
Go around the brick wall, not through it.
Kids and chaos go together like peanut butter and jelly, so why fight it? Outsmart it. Customize your child's bedroom closet to include a place for everything (or close to it). Built-in shoe racks are great for keeping clutter out of your doorway, lower hanging racks make it easier for them to hang their own clothes, and lower drawers all help your little ones (and you!) stay organized.
Mudrooms and lockers are a great way to give your kids a place to put everything as they walk in the door. It's a cool, fun way to entice them to put their things in "their" locker at the end of their school day and a spot where everyone knows where jackets, shoes and keys are at.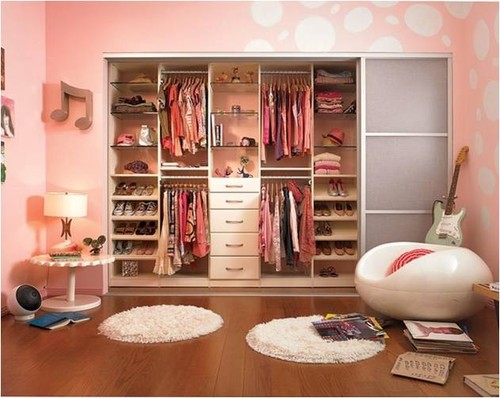 Mudroom Lockers by Woodways
2. Encourage Creativity & Express Individuality
Let them help with the design! Instead of creating a space that goes with the rest of your home, ask for your child's input. No matter how young they are, I'm sure they have a favorite color or even a favorite animal. Find out what this is and then implement it into the theme you're going with. If they like neon pink, opt for neon pink accents, or create the room with a lighter pink in mind if you're not ready to commit to neon cabinetry or walls.
This may seem small, but this simple concept is so important for development. It shows your child that their opinion is valuable, evokes a creative conversation, and brings out a sense of individuality at a young age.
Kid's Bathroom Designs by Woodways
3. Maximize Your Child's Potential
Custom lets you create an environment conducive to whatever you or your child wants.
Does your family have an appreciation for art and creativity? Is excelling academically the most important thing your family values? Or are athletics and motivation essential in making your children well rounded?
Whatever is important in yours or your child's life, custom work gives you the opportunity to create an atmosphere that allows for you to maximize the potential in your child. This is not meant to pressure them into becoming a child prodigy by the age of 8, but simply to create an atmosphere of opportunities and inspiration to discover what they're capable of.
A custom made desk is perfect for someone that likes to have a separate place for your children to read or do homework. If you want your child's bedroom to give off a creative vibe, create a workspace that allows them to color, draw, or paint, and make sure you leave space on the walls to hang their artwork! The beauty of custom work is creating a space specifically for your life, and your preferences. Open your mind in order to open theirs.
Inspirational ideas by Easy Living gives various examples how to decorate your child's room while still making it a practical space, like this art-infused bedroom.
4. Make them feel included.
What may seem like an adult only area of the house, the kitchen can be a place where your little ones can learn valuable lessons and feel included.
Do you cringe every time your child attempts to climb on the counter? Turn a few lower cabinets into your child's kitchen space. Make pull outs that are stocked with their own set of bowls, utensils, and maybe even a few ingredients (depending on how old they are). Implement a shorter table or lower section of your countertop so they can have their own workspace instead of standing on a stool that could be dangerous and encourages countertop curiosity.
They might discover a hidden passion, learn to cook or bake, or simply feel included. Plus, it's a great way to bond without feeling that they're in the way when you're trying to get dinner on the table. Invite them into the kitchen instead of sending them to the television and watch their potential grow!
 Custom Kitchen Design by Woodways